About Windrush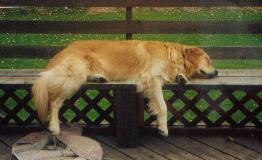 We have been showing and breeding Goldens for almost 20 years. We purchased our first Golden in 1979. We were bit by the bug and now actively breed and show this wonderful companion breed. The disposition and the friendliness of the Golden Retriever is what has us hooked! We breed only occasionally usually about once or twice a year. With three children it's far to easy to accumulate goldens!
We share our home with five Goldens and I can't tell you what a joy it is! Our Goldens are fairly laid back, as you can see with our favorite picture of Indy sleeping on the bench. Goldens make great family dogs and we can't stress enough that our goldens go to family homes. All dogs, especially goldens deserve to be a part of the family, they are happiest when sleeping on the sofa or playing ball with the kids.Our dogs are a part of our family and as the pictures throughout the site show they have the best life on our farm along the Old Man River.





Over the years we have worked to improve our genetic line through the very best dogs available. Thanks to Eirene, Justmoor, Goldenmoments, and Chartwell Kennels for their superb contribution to our genetic pool. Health Issues and temperament are number one at Windrush and we offer comprehensive health guarantees covering hips, eyes, heart and any other congenital problems. We want our clients to enjoy long happy lives with their Golden.



Thanks to the excellent handling by Shannon Scheer and Shauna Bernardin of Calgary our dogs have been quite successful in the show ring. Showing has allowed us to compare our dogs to others in the breed. Although our dogs have experienced the show ring, once again our main goal is to raise a few well-mannered goldens to be family companions.





Well, I think that about wraps it up...Take a look around the rest of our site...If you have comments or questions we'd LOVE to hear from you, so feel free to contact us via email, phone or snail mail!